PRESS RELEASE - Appointment of Joy Dunsheath as UNANZ Life Member
12 June 2020
Media Release
For release: Monday 15 June 2020
Spirit of service of Joy Dunsheath recognised with Honorary Life Membership
The United Nations Association of New Zealand (UNA NZ) is delighted to announce that Joy Dunsheath JP has been made an Honorary Lifetime Member. Ms Dunsheath served as National President of UNA NZ from 2016 to 2018 and prior to that as Vice-President, furthering the association's goals to inform, inspire and engage all New Zealanders regarding the work, goals and values of the UN to create a safer, fairer and more sustainable world.
"The National Council are very pleased that Ms Dunsheath joins the ranks of the Association's life members. These are individuals who have carried out distinguished service for the United Nations Association of New Zealand, and the United Nations over a period of years. It is a recognition of her spirit of service and a lifetime of voluntary work." said UNA NZ National President Peter Nichols.
"I look forward to Ms Dunsheath's continued contribution to our work with the UN system and Member States for urgent and concrete action to achieve a life of dignity for all and the attainment of Sustainable Development Goals (SDGs)."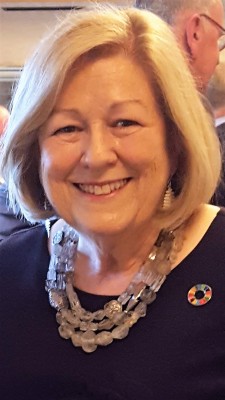 Ms Dunsheath has led events and important dialogue over many years which advance the three pillars of the UN: human rights, peace and security, and development. She has been particularly active in promoting understanding and implementation of the Agenda 2030 and the SDGs.
"I am devoted to helping New Zealanders become familiar with the UN and to encourage NGOs to play a major role in achieving the SDGs. One of my key objectives is to make the UN more accessible to the public. " explained Ms Dunsheath.
She has worked domestically and internationally as an advocate for human rights and gender for many years with several NGOs including UNA NZ, UN Women Aotearoa New Zealand, Graduate Women International (Hegg Hoffet Committee), White Ribbon Campaign, and as part of the Ministry for Women's International Women's Caucus.
Highlights from her work with UNA NZ include representing New Zealand at the World Federation of United Nations Associations (WFUNA) International Plenary Assemblies and election to its Board; promoting public speaking in secondary schools for over 40 years including the national UNA NZ Speech Award; and, advocating for human rights and gender for many years including at the Commission on the Status of Women (CSW) in New York.
The full list of the United Nations Association of New Zealand Honorary Life Members can be found at: https://www.unanz.org.nz/about-us/our-people/.
ENDS
For further information, please contact
Peter Nichols
National President